A-Z Michael provides a wide range of handyman services. Michael and his team are committed addressing their clients' needs.
THEIR SPECIALTY & SERVICES:
Painting
Carpentry
Locksmith
Plumbing
Electrical
Cleaning
Others
ISOTeam HomeCare with over 15 years of experience provides handyman services for all your home improvement and maintenance needs in Singapore. 
THEIR SPECIALTY & SERVICES:
Home and commercial services including:
Home painting,
Plumbing,
Electrical wiring, installation
Other general repair works
In-house design team to customise kitchen solutions
8 Changi North Street 1,
ISOTeam Building, Singapore 498829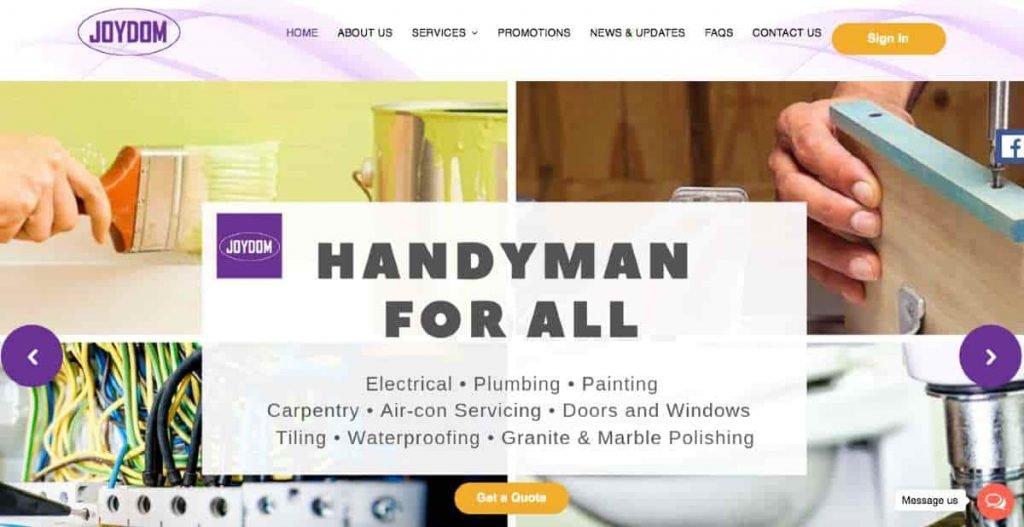 THEIR SPECIALTY & SERVICES:
Handyman services includes:
Plumbing
Electrical
Installation
Painting
Others
5 Little Road, #03-01 Cemtex Industrial Building, Singapore 536983
Joydom Engineering Pte Ltd was setup in 2011 and provide trusted handyman services.
We will be featuring more best Handyman Services firms in here soon.
If you like your organisation to be considered to be featured here, please send us an email at info@topbestinsingapore.com