Top Mexican Cuisine Restaurants In Singapore
Mexican Restaurants In Singapore
Mexican cuisine is one of the most popular Singapore cuisines. There are no lack of Mexican restaurants here in the little red dot. Whether you're in a crave for some tasty tacos and enchiladas or a bowl of guacamole or on the hunt for modern fusion Mexican restaurant, below is a list of top Mexican restaurants to satisfy your Mexican food cravings.
Here's the list of top Mexican restaurants, ranging from Michelin Star restaurants to regular restaurants that are both suitable for a normal family meal or special occasions, fitting all budgets. 
Best Mexican Restaurants In Singapore
They offer a variety of affordable and good quality Mexican food. 
They offer good quality Mexican food at an affordable prices that caters to both locals and tourists
Carnitas Quesadillas

Chicken Tinga Burrito

Carnitas Tacos

Beef Picadillo Burrito
Quality food at an affordable price
Able to order online
275 Thomson Rd, #01-45, Singapore 307645
Tuesday to Sunday: 10am – 9pm
"Great place for good humble mexican food. The staff were all friendly and the place was worth the trip. The portions served were generous and at affordable prices too. The ghost pepper sauce was excellent. Definitely will return again for more."
"I love their food here, especially their burritos! Mexican food i had at OTHER places are mostly too sour or cheesy for my liking. However, the tacos, burritos and quesadillas served at El Cocinero have well balanced cheesy, savory, sweet and sour flavors. Affordable prices. Keep up the good work! I have been there twice and will definitely come back again!"
2. Guzman y Gomez – Funan Mall
Their passion is creating delicious food out of real ingredients prepared with 24 hour marinades, chip-tasting sessions and chillies using authentic techniques
Beef burrito bowl
Tacos 

Quesadillas
Able to choose your own filllings
107 North Bridge Rd, #B1-35, Singapore 179105
Monday to Sunday: 10.30 am – 9.30 pm 
"The food was so amazing! Ordered the Burrito bowl and the tacos! I would recommend ordering the 3 tacos with different meats so you can try all the different meats! Would be too much for 1 person but if you're going with a friend, would be good to share 3 tacos! Also, would like to compliment the staff on their service! One of the staff accidentally spilled the drink on the table when he was placing the food down, and some of juice spilled on my bag. He was very apologetic about it, even though I told him it was okay. He quickly gave me napkins to wipe my bag and also gave us a new drink and gave us churros on the house! Very good customer recovery."
"Great food! If you're craving for awesome tacos and burritos, this is the place to be! The staff in FUNAN is friendly especially the manager! Loved the ambience too!"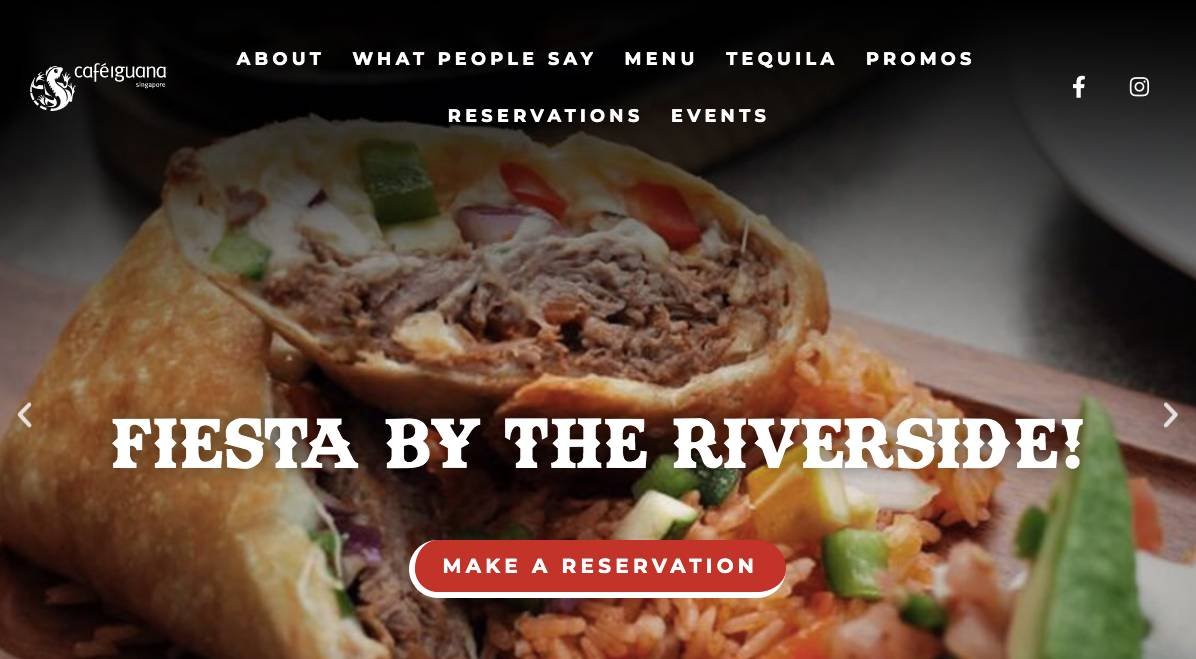 Founded in 2000, Café Iguana is an institution by the Singapore River. They focus on quality and serve only the freshest ingredients.
Tacos

Jalapeno poppers

Calamaris
Their signature El Destilador premium tequila
Free parking @ Riverside Point
Many promotions available 
30 Merchant Road #01-03 Riverside Point, 058282
Monday – Thursday
4PM – 11PM
Friday
4PM – 1AM
Saturday
12PM – 12AM
Sunday
12PM – 11PM
Eve of Public Holiday
Open – 12AM
Public Holiday
12PM – Close
"This is one of my first restaurants I visited in Singapore. I love the food here and the Margarita. By the riverside this place has a chilled out vibe. Great place to hangout with friends, be it noon or evening. Getting indoor seats in the noon is better as it is hot. They do serve the brewerkz beer here.. Staff are quick and friendly."
"Really nice restaurant, friendly staff and good food! Margaritas and beer from Brewerkz are delicious. Staff even turned down the music for us as we found it too loud. We really like the free flow tortilla chips, the quesadillas and the chicken and fish tacos. Even the baby enjoys the rice and beans! We are repeat customers 😎"
Overall, each of these Mexican restaurants included on this list are capable of providing you with the best Mexican cuisine you desire. Given the fact that each of these restaurants has it's own unique styles, you should review the list and then dine in the one that you think will satisfy your craving the most.
If you like your restaurant to be considered to be featured here, please send us an email at info@topbestinsingapore.com