Best Marketing Services In Singapore
Marketing is vital for any business as it works areas like lead generation, branding, differentiation and digital marketing. Digital marketing services would includes web design and development, content creation and management, Search Engine Optimisation (SEO), Search Engine Marketing (SEM), strategic communication, public relations and other marketing related services.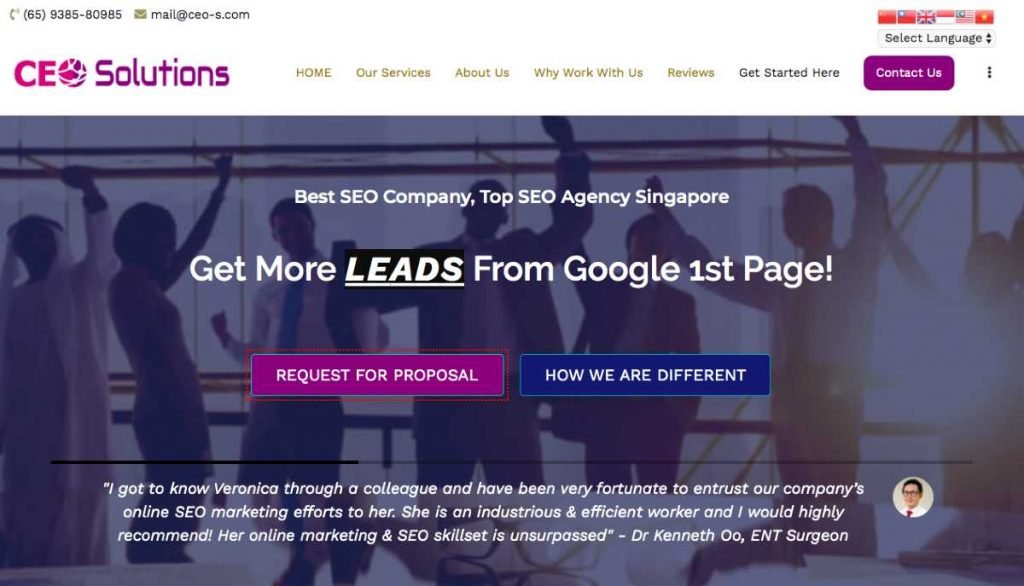 CEO Solutions is a digital marketing company provided proven search engine optimisation (SEO) and web design solutions.  This includes digital marketing strategy consultation to help you establish and further grow your business.
THEIR SPECIALTY & SERVICES:
SEO
Website Content Development
Website Audit
Online Branding and Reputation Management
Website Conversion Optimsation
No set-up or hidden fees
Performance guranteed
No lock in period
Competitive pricing
7030 Ang Mo Kio Ave 5,
#08-37A Northstar @AMK
Singapore 569880
Monday to Friday: 9 am to 6 pm
Closed on Saturday & Sunday
"Veronica is a great business partner in SEO strategy. She works with a consultative approach and is highly detailed in her reports. She is a go-getter and has high level of expertise in her field."
"Provides very professional SEO service ! The best Singapore SEO company I know of. Consultant Veronica could preempt what business owners need & provided valuable solutions that to bring our business to the next level!"
Creativeans establised in 2012 an marketing branding and design consultancy with offices in Singapore, Milan and Jakarta.  The company assists in providing solutions in branding product design, UI/UX design and other related areas.
THEIR SPECIALTY & SERVICES:
Branding
Product Design
UI/UX Design
Communication Design
Packaging Design
Clients from SMEs to enterprises.
ISO 9001: 2015 certified creative consultancy firm
39 Woodlands Close, #08-56,
Mega@Woodlands,
Singapore 737856
Monday to Friday: 9 am to 6 pm
Saturday: 9 am to 12.30 pm
Sunday: Closed
"I am very inspired by their passion for design. Creativeans threw in their all to design a range of product packaging designs for Daiyo Electronics. They not only have impressed me with their talent, but have won the hearts of my customers."
"We are impressed with Creativeans' systematic approach towards identifying the gaps in our brand image, the active listening to our branding needs and the creative energy that was poured into crafting your designs..."
3. Klareco Communications
Klareco Communications is a public relations and corporate communications agency headquartered in Singapore.
We have a rapidly expanding network of offices across Asia and are headquartered in Singapore.
The team has expertise in bring useful insights and clarity to complex situations for their clients.
THEIR SPECIALTY & SERVICES:
Corporate Communications
Financial Communications
Public Affairs
Crisis Communications
Digital Communications
Media Training
Industry expertise across various sectors including Technology, FinTec, Financial Services, Education, Healthcare and others
Partnerships in America, Middle East and Europe 
Competitive rates for services
8 Cross Street, #25-06/07 Manulife Tower,
Singapore 048424
enquiries@klarecocomms.com
Monday to Friday: 8 am to 9 pm
Saturday: 8 am to 3 pm
Sunday: Closed
"We have worked with the team at Klareco Communications, both in Singapore and across SE Asia, for several years and have been impressed with how they approach their work and by the way in which they handle their clients as well as their suppliers. A dynamic team and a pleasure to work with"
Marketing services can assist businesses to address what their customers are looking for. In addition, effective marketing can assist you to win market share against competition.   The right and effective marketing agency is definitely a strategic partner that any business can tap on to grow their business. 

Below is the list of good marketing services companies in Singapore that can assist you in addressing your marketing needs.