Best Marketing Services In Singapore
Marketing is vital for any business as it work in areas like lead generation, branding, differentiation, customer engagement and sales. As we are now operating in the digital economy, businesses have to embrace digital marketing to become more productive, efficient and competitive.
WHAT IS MEANT BY DIGITAL MARKETING?
Digital marketing is the use of the internet, search engines, email marketing, social media, video marketing, and other digital channels to reach customers.
WHAT ARE THE  TYPES OF DIGITAL MARKETING?
The types includes Search Engine Optimisation (SEO), Search Engine Marketing (SEM), Social Medial Marketing, Email Marketing, Influencer Marketing and others.  SEO is an acronym that stands for search engine optimization, which is the process of optimizing your website to get organic, or un-paid, traffic from the search engine results page.  
Digital Marketing using Artificial Intelligence (AI) Marketing include AI Chatbots which can enhance lead generation, followup and overall customer engagement experiences thereby boosting business revenues.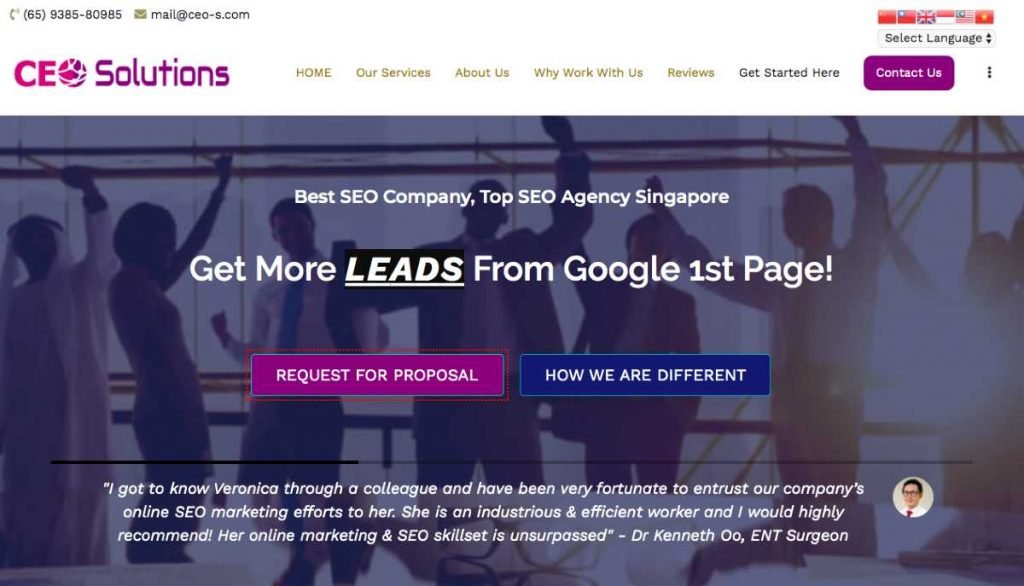 CEO Solutions is a digital marketing company providing proven search engine optimisation (SEO), web design, and other digital marketing solutions.
If you want more business,  more customer leads, you need to firstly ensure that your potential customers can find your business website on Page one of Google Search when searching for your services – this is the power of SEO.
THEIR SPECIALTY & SERVICES:
Search Engine Optimisation
Website Content Development
Website Audit
Online Branding and Reputation Management
Website Conversion Optimsation
No set-up or hidden fees
Performance guranteed
No lock in period
Competitive pricing
7030 Ang Mo Kio Ave 5,
#08-37A Northstar @AMK
Singapore 569880
Monday to Friday: 9 am to 6 pm
Closed on Saturday & Sunday
"Veronica is a great business partner in SEO strategy. She works with a consultative approach and is highly detailed in her reports. She is a go-getter and has high level of expertise in her field."
"Provides very professional SEO service ! The best Singapore SEO company I know of. Consultant Veronica could preempt what business owners need & provided valuable solutions that to bring our business to the next level!"
AiChat was officially founded in July 2016. Since then, the platform has evolved from a simple chatbot platform to a sophisticated AI-powered conversational experience solution.
The AI Chatbot – Conversational Marketing Suite solution provides a unified chat marketing platform to know consumers, engage them, and personalise their experience across all chat channels.
This will empower your business to keep up with their customers expectation and staying ahead of competition.
THEIR SPECIALTY & SERVICES:
The company work closely with clients to provide an end-to-end solution, from consultation to the design and development of the AI chatbot using AiChat technology and platform.  
Key AI Chatbot Products are:
Conversational Marketing Suite.
Conversational Service Suite.
Conversational Commerce Suite.
The company has a diverse team of experienced AI technologists, conversational designers, chatbot developers and digital marketers from WPP, Microsoft, IBM and Accenture backed by strategic private investors who are formerly from Adobe, Salesforce and ServiceNow.
Monday to Friday: 9 am to 6 pm


"With Messenger, we gave our guests the information they needed quickly and helped them discover more about the many attractions Marina Bay Sands offers. By using the bot for Messenger, we impacted business internally and made our communication on the channel more efficient."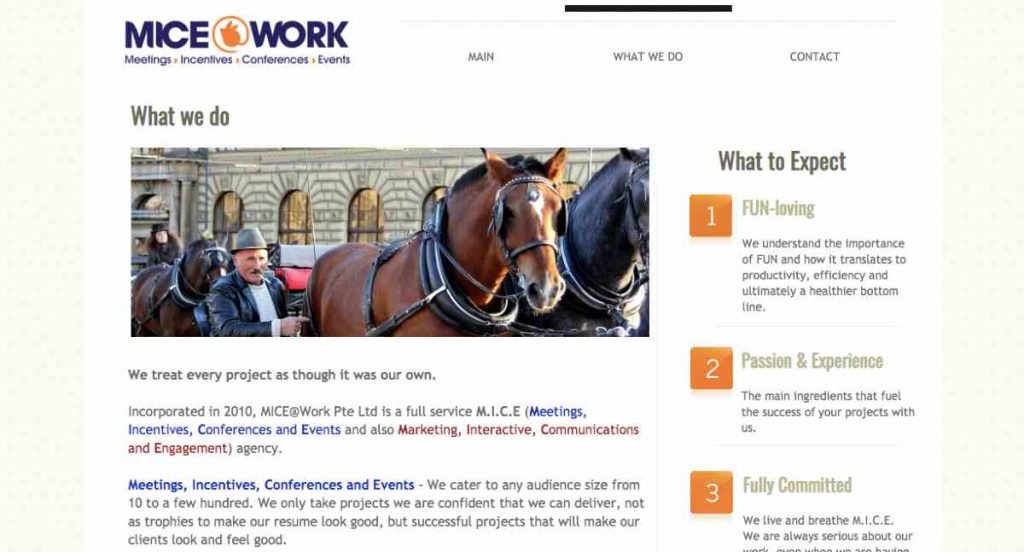 Incorporated in 2010, MICE@Work Pte Ltd is a full service M.I.C.E (Meetings, Incentives, Conferences and Events and also Marketing, Interactive, Communications and Engagement) agency.
Meetings, Incentives, Conferences and Events – We cater to any audience size from 10 to a few hundred. 
THEIR SPECIALTY & SERVICES:
We pride ourselves in providing integrated solutions/services in the following areas:
Conferences and Travel Incentives
Channel Reward/Incentive Programs
Marketing Communications
Program Communications 
We only take projects we are confident that we can deliver, not as trophies to make our resume look good, but successful projects that will make our clients look and feel good.
Monday to Friday: 9 am to 6 pm


4. Trout & Partners Asia Pacific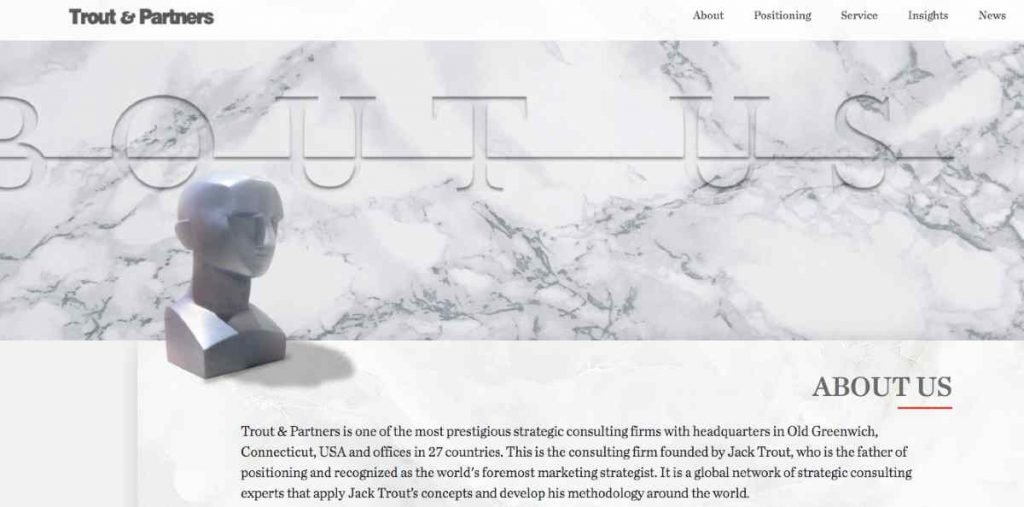 Trout & Partners is one of the most prestigious strategic consulting firms with headquarters in Old Greenwich, Connecticut, USA and international offices in Europe and Asia-Pacific. This is the consulting firm founded by Jack Trout, who is the father of positioning and recognized as the world's foremost marketing strategist.
THEIR SPECIALTY & SERVICES:
Strategic Positioning
Branding 
Clients in USA, Europe, Asia-Pacific, China.
Monday to Friday: 9 am to 6 pm


Marketing services can assist businesses to address what their customers are looking for. In addition, effective marketing can assist you to win market share against competition.   The right and effective marketing consulting firm or agency is definitely a key strategic partner that any business can tap on to grow their business.
We will be featuring more top Marketing Services firms here soon. If you like your organisation to be considered to be featured here, please send us an email at info@topbestinsingapore.com