Top Italian Cuisine Restaurants In Singapore
Italian Restaurants In Singapore
Italian food is one of the most popular Singapore cuisines. There are no lack of Italian restaurants here in the little red dot. Whether you're in a crave for some delicious lasagna & pasta, or a bowl of hot risotto or on the hunt for modern fusion Italian restaurant, below is a list of top Italian restaurants to satisfy your Italian food cravings.
Here's the list of top Italian restaurants, ranging from Michelin Star restaurants to regular restaurants that are both suitable for a normal family meal or special occasions, fitting all budgets. 
Best Italian Restaurants In Singapore
Basilico emphasis on fresh, seasonal and authentic Italian cuisine. They serve à la carte and buffet options featuring a dazzling array of signature dishes and sumptuous spreads of antipasti, mains and desserts.
Lilicchio (Squid Ink Bread)
Three variants of Burrata
Orecchiette Pasta
Il Crudo
Risotto Ai Porcini
They have many features such as a rotisserie, espresso bar and walk-in wine cellar, and an al fresco dining area on the terrace overlooking the pool.
They offer different activities such as "AN EGG-CELLENT EASTER AT BASILICO" and "A WINE JOURNEY TO CAMPANIA"
1 Cuscaden Rd, Level 2 Regent Singapore, Cuscaden Rd, Singapore 249715
Breakfast:
6:30 am – 10:30 am (Mon-Sun)
Lunch:
12:00 pm – 2:30 pm (Mon-Fri)

Brunch:
12:00 pm – 3:00 pm (Sat-Sun)

Dinner:
6:30 pm – 10:00 pm daily
"Basilico's is one of the Italian buffet worth checking out in Singapore. Must-tries are the pan-fried sea bass (the lemon-dill sauce is exquisite) and pork belly (the skin is thin and crisped to perfection). Of course, the breads, pizzas, pastas and antipasti (all Italian staples) are not to be missed!"
"Outstanding Italian restaurant using a semi-buffet concept. You can get antipasti yourself from the buffet, then order wine and a main course from your table, followed by a visit to their extraordinarily well-stocked cheese room (definitely worth a visit!), and help yourself to some dessert. Prices vary on the number of courses you go for. They have a varying menu with seasonal specials, and offer a very high standard of Italian food. The wine list is also quite accessible, even when on somewhat of a budget."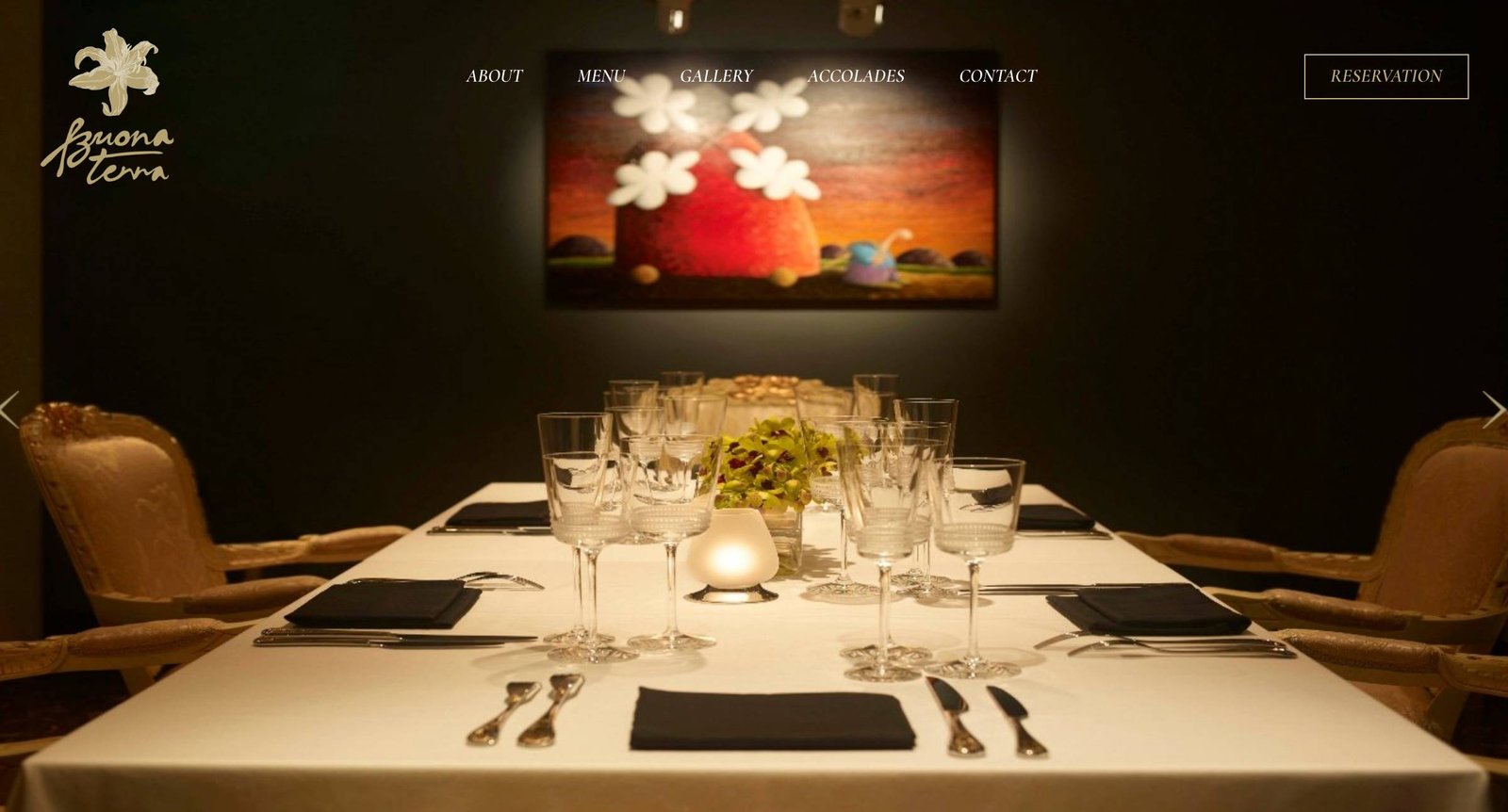 Buona Terra is an ode to the Italian love affair with food and dining. It serves  Italian food-craft at its most thoughtful and original and gastronomically refined.
Carpaccio di Salmone Marinato (Cured Salmon Carpaccio with Orange and Capers)
Amuse-bouche
Guancetta di Wagyu (Braised Wagyu Beef Cheek with Potato Cream and Red Wine Sauce)



Buona Terra has a boutique ambience that weaves a spell of charming intimacy

Bold, innovative cuisine 

Unique interior that evokes the history-steeped, colonial beauty of the main Black-and-White bungalow — yet remains fetchingly casual
29 Scotts Rd, Singapore 228224
+65 6270-7704 / +65 9456-3147
​
"One of the best Italian food that i have eaten. We had the 4 course set lunch and it was nicely presented and taste fantastic. What impress me was the black squid ink pasta and the cigar dessert. The service was fantastic as well."
"Great restaurant. If you are looking for a nice high-end experience, go here. The food and wines are amazing, as is the service. We got the four courses with wine pairing and the presentation of everything was fabulous. I am not a huge fan of Italian wines but I loved everything they served. Also, unlike most high-end places here, they are awesome with kids! My kids stayed well-behaved partially due to their thoughtfulness. You will pay a fair bit here, but it's a worthy destination."
Since 2000, Oscar and Tracy Pasinato, the husband-and-wife duo have single-handedly run their 20-seat restaurant. Their approach to food can be described as "keeping it as simple as possible"
Penne Pasta with Braised Lamb Shank and Sage Ragu' 
Pan Fried Australian Grass fed Beef Tenderloin with Apple Mustard and Red Wine Jus
Mozzarella and Tomato Crostino topped with Parma Ham
Interview with Bazaar Magazine

Featured on CW Cover Magazine

Featured on Straits Times
126 Tanjong Pagar Road, Singapore 088534
Lunch (Thu, Fri & Sat)
12pm – 3pm
Last seating 2pm
Dinner (Tue to Sat)
6:30pm – 11:30pm
Last seating 10pm
Closed (Sun & Mon)
"Great service and great food. Good wine selection. A gem tucked away, you'll miss it if you are not looking for it. Will definitely be back again."
"Absolutely beautiful food in a cute little family-run joint. Small menu with a speciality menu that changes depending on what's in season. Served by the owners themselves who make you feel very well taken care of."
Overall, each of these Italian restaurants included on this list are capable of providing you with the best Italian cuisine you desire. Given the fact that each of these restaurants has it's own unique styles, you should review the list and then dine in the one that you think will satisfy your craving the most.
If you like your restaurant to be considered to be featured here, please send us an email at info@topbestinsingapore.com