Best ENT Specialist in Singapore
1. Ear Nose Throat, Head & Neck Surgery
Ear Nose Throat, Head & Neck Surgery is an ENT clinic operating since 2003.  Clinic is equipped with advanced ENT equipment providing ENT care and treatments for patients.  
THEIR SPECIALTY & SERVICES:
ENT treatments
Sleep Apnea
Otoplasty
Sinus Infection treatment
Rhinoplasty
Other ENT conditions
International trained ENT doctors 
Experienced ENT surgeons
Financial options available for treatments
3 Mount Elizabeth, #03-01/02 Mount Elizabeth Medical Centre, Singapore 228510
info@earnosethroat.com.sg
Mon – Fri:  9am to 5.30pm
Sat: 8am to 1pm
Sun: Closed
Dr Annabelle Leong is an ENT surgeon trained in UK, Canada and Singapore.  Addressing adults and children ENT conditions is her specialisation.
THEIR SPECIALTY & SERVICES:
Sleep and Snoring
Sensitive nose
Nose and Sinus
Children's ENT
Others
Doctor has more than 17 years of ENT experience
Mount Elizabeth Novena Hospital
38 Irrawaddy Road, #07-46/46
Singapore 329563
Mon-Fri: 9am to 6pm
Sat: 9am to 1pm
"Great doctor, knowledgeable and experienced and takes the time to explain. Really friendly and reassuring when I was nervous about having my ear examined. Highly recommended!
3. The Children's Eye & ENT Centre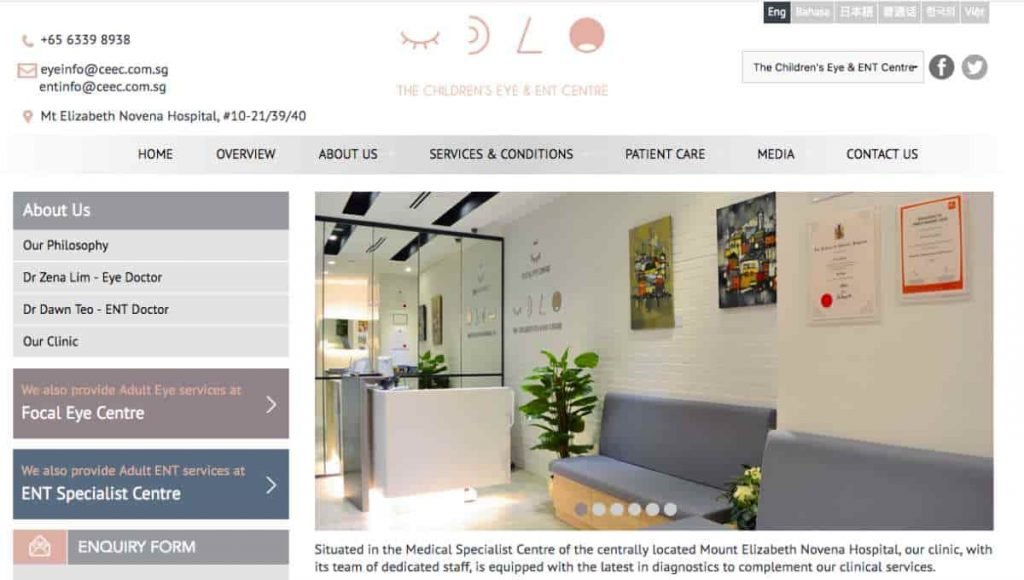 The Children's EYE and ENT Centre is established by 2 doctors who are mothers of young children with a philosophy of care.  The clinic provides specialised care for children in family and child friendly environment.  
THEIR SPECIALTY & SERVICES:
Tonsils and adenoids
Allergy and sinus
Snoring and sleep apnoea
Ear infections
Ear drainage and blocked ears
Others
195A East Coast Road, Singapore 428900
We will be featuring additional Top ENT Specialists here soon.
If you like your organisation to be considered to be featured here, please send us an email at info@topbestinsingapore.com