Top Chinese & Dim Sum Cuisine Restaurants In Singapore
Chinese & Dim Sum Restaurants In Singapore
Chinese & Dim Sum is one of the most popular Singapore cuisines. There are no lack of Chinese & Dim Sum restaurants here in the little red dot. Whether you're in a crave for some tasty dumplings, or a plate of fried rice or on the hunt for modern fusion Chinese & Dim Sum restaurant, below is a list of top Chinese & Dim Sum restaurants to satisfy your Chinese & Dim Sum food cravings.
Here's the list of top Chinese & Dim Sum restaurants, ranging from Michelin Star restaurants to regular restaurants that are both suitable for a normal family meal or special occasions, fitting all budgets. 
Best Chinese & Dim Sum Restaurants In Singapore
Asia Grand Restaurant offers you authentic Traditional Cantonese dining experience originating from Hong Kong.  They serve a variety of popular food items that are loved by locals and tourists.
Fried Stuffed Crab Shell
Stewed Kampong Chicken with Onion and Vegetables
Braised Shark's Fin Soup with Shredder Chicken & Bamboo Pith
Braised Whale Spine Sea Cucumber with Vegetables
It is helmed by the 3 founders of Singapore's famous Tsui Hang Village of the 80s
They offer a wide variety of mouth-watering Hong Kong Dim Sum for lunch to exquisite Ala-Carte Cantonese dishes, Roasted dishes and live seafood
331, North Bridge Rd, #01-02, Odeon Towers, 188720
Monday — Saturday: 11:30 — 14:30
Monday — Saturday: 18:30 — 22:30
Sunday & PH: 10:00 — 14:30
Sunday & PH: 18:00 — 22:30
"Good place for traditional style dim sum in a nice setting. Good for family gatherings because of the big space that has many tables. Large variety on the menu. The place Is spacious and has private rooms for larger groups. Dim sum is one of the better quality places in Singapore."
"Very good dimsum here! Service is also very good! Highly recommended. Pricing is also reasonable. Didn't try the main dishes but dimsum is definitely awesome. Hakkaos were good. Not a lot of places have nice hakkaos. This one definitely does!"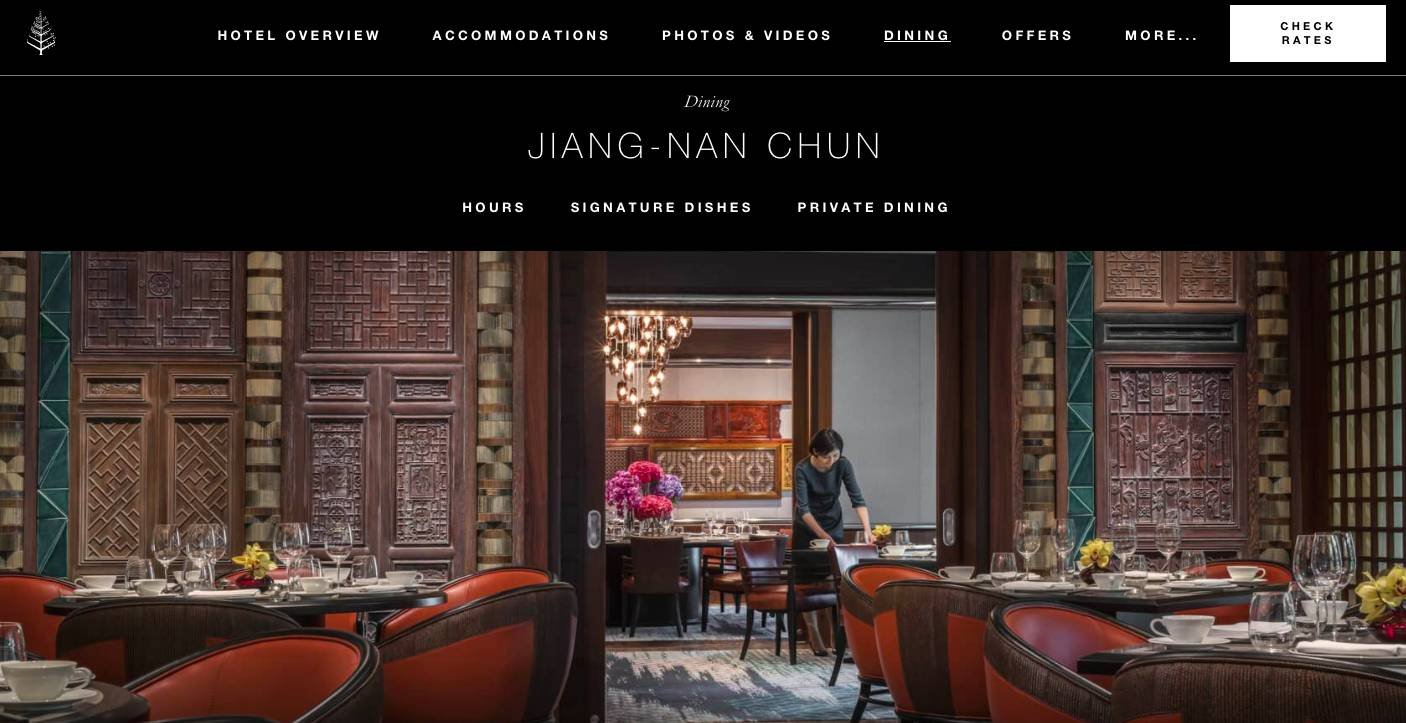 The restaurant is evocative of the pastoral lifestyle of the Jiang Nan region's traditional river villages through its rustic décor, but also through its authentic Cantonese cuisine.
Michelin-starred restaurant

They provide elegant private dining rooms are perfect for intimate family dinners and cocktail parties or important business meetings
190 Orchard Blvd, Singapore 248646
"Very decent food generally. Interesting to have a Peking Duck (pretty good) here - 2 types of wraps and four condiments - sugar to start then choice of typical classic sweet sauce, Cantonese sauce and caviar. Note that one duck can have about 20 wraps. Their daily double-boiled soup is superb. One of the very few fine Chinese restaurants which places attention to decent plating and sophisticated service. Ambience is cosy and tables are spaced comfortably apart."
"Was here for food testing for a wedding. Food is good, service is awesome. The waitress who served us is very detailed to the core when she realised that my dad uses his left hand to eat she changed the position of the utensils. Its really a highly recommended place to eat good food at."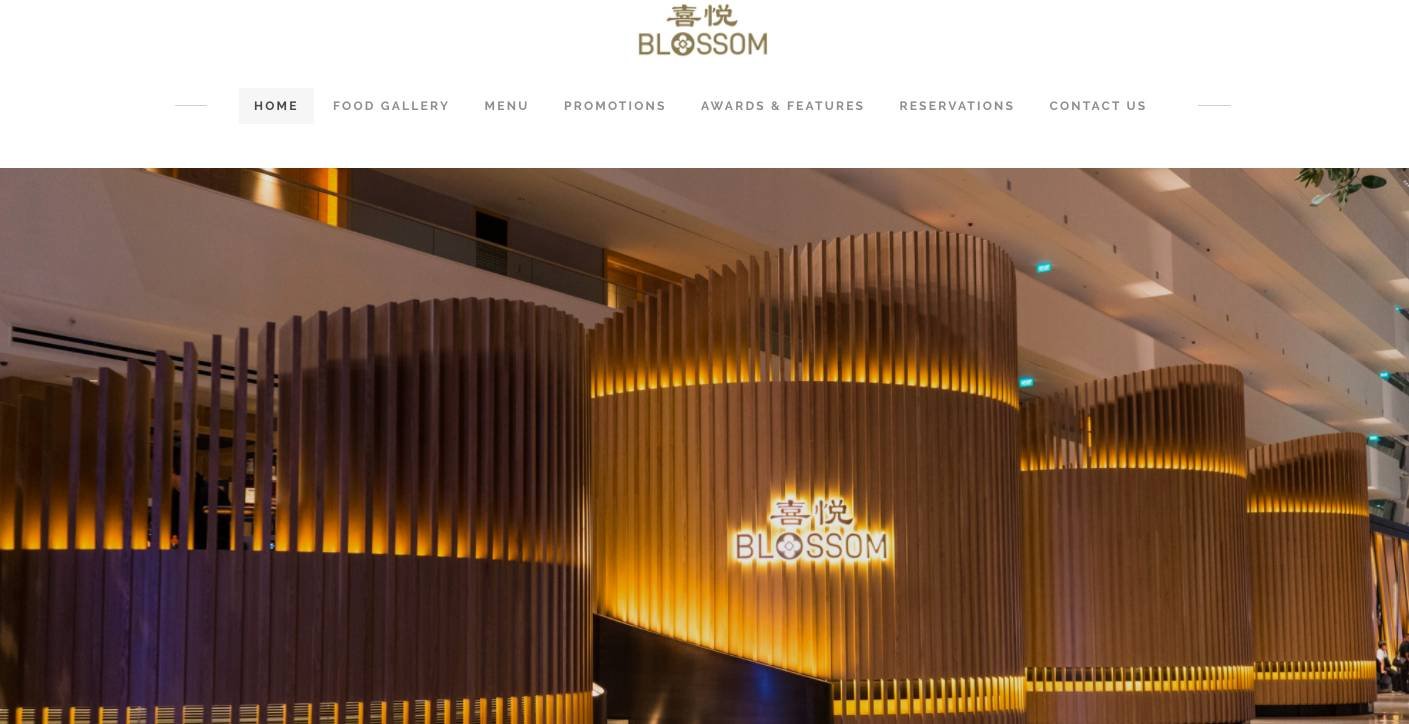 Blossom presents modern interpretations of the finest Cantonese and Sichuan cuisine – a delectable balance of traditional, modern flavours and techniques
BLOSSOM Signature Stir-fried Birds' Nest and Fresh Crab Meat
Braised 4 Head African Wild Whole Abalone
BLOSSOM Peking Duck
Pan-fried Lobster with Caviar
Smoked Chicken with 15-year Pu-Er Tea Leaves and Chrysanthemum
Singapore's Top Restaurants
2019 / 2020

World Luxury Restaurant Awards 2019: Chinese Cuisine Regional Winner

Epicurean Star Award Singapore 2019
Best Chinese Restaurant (Fine Dining) Finalist


Epicurean Star Award Singapore 2019
Best Seafood Restaurant Finalist
Marina Bay Sands Hotel, Lobby Tower 2, #01-05/05A, 2 Bayfront Ave, 018972
Mon — Fri:
Lunch: 11am — 5pm (last order 4.30pm)
Dinner: 6pm — 11pm (last order 10.30pm)
​
Sat — Sun & PH:
Lunch: 11am — 5pm (last order 4.30pm)
Dinner: 6pm — 11pm (last order 10.30pm)
"Wonderful atmosphere and location, feels good to be seated, having a nice meal, perched above the bustling people passing by. Food was well portioned and enough to go around. A must visit again, experience."
"Blossom's Dim Sum really surprised me, it is comparible to Singapore's Michelin rated Chinese restaurants. The presentation is visually delightful & equally matched by the taste, textures, and food quality. We were so pleased, we went back for dinner at Blossom's private dining rooms. The ambience in the private dining rooms is most comfortable and relaxing. The smoked duck is fabulous and a must order, while the individually plated lobster and scallop dishes were most exquisite. Remember to save room for the dessert! The dining experience at Blossom is highly recommended."
Overall, each of these Chinese & Dim Sum restaurants included on this list are capable of providing you with the best Chinese & Dim Sum cuisine you desire. Given the fact that each of these restaurants has it's own unique styles, you should review the list and then dine in the one that you think will satisfy your craving the most.
If you like your restaurant to be considered to be featured here, please send us an email at info@topbestinsingapore.com