IVF & Fertility Specialist
1. Astra Centre for Women & Fertility
Astra Centre for Women & Fertility is run by Dr. Fong Yang who is an accredited Ministry of Health IVF clinician, with over 20 years of experience in Obstetrics and Gynaecology.
THEIR SPECIALTY & SERVICES:
Fertility Assessments
Fertility Treatment

Medication
Intrauterine insemination (IUI)
In-vitro Fertilization (IVF)
38 Irrawaddy Road
Mount Elizabeth Novena Specialist Centre
#05-04
Singapore 329563
Mon to Fri (Except Wed): 9am – 5.30am
Wed & Sat: 9am to 1pm
2. Virtus Fertility Centre
Virtus Fertility Centre, is located at Scotts Medical Center is the largest self-contained fertility centre in the region. The centre has its own theatres, embryo transfer rooms, and a connected clean-room laboratory. 
THEIR SPECIALTY & SERVICES:
Fertility Assessments
Ovulation Induction & Intrauterine Insemination (IUI)
IVF & ICSI
Fertility Coaching & Counselling
9 Scotts Road, Units #09-01 to 05, Scotts Medical Centre @ Pacific Plaza, Singapore 228210
Mon-Fri:  8am to 5pm
Sat: 8am to 12pm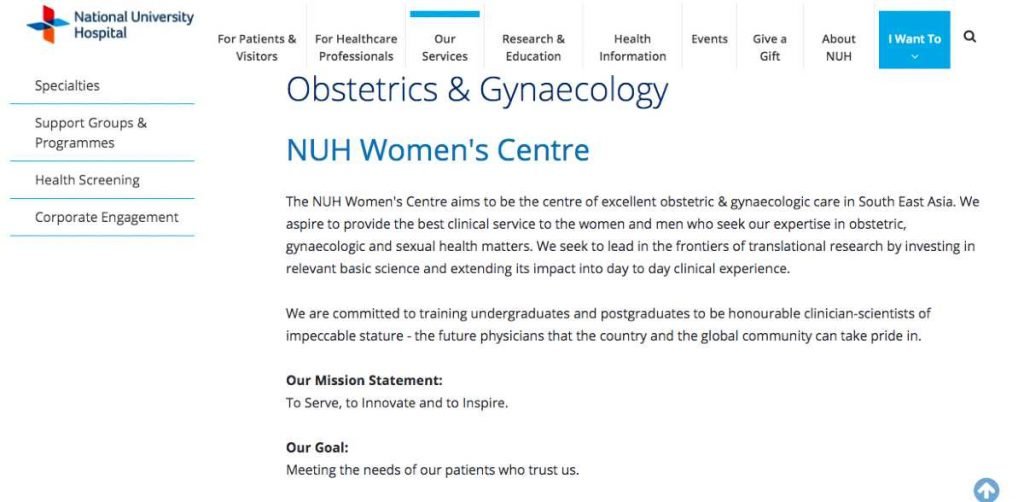 NUH Women's Centre under their Reproductive Endocrinology and Infertility services provides a full range of fertility investigations and treatment options for couples who need assistance in achieving parenthood.
THEIR SPECIALTY & SERVICES:
Treatment includes:
In-vitro Fertilization (IVF)
Intra-Cytoplasmic Sperm Injection (ICSI)
Preimplantation Genetic Diagnosis (PGD)
Embryo/sperm cryopreservation
Others
NUH Women's Clinic
301 South Buona Vista Rd, level 3, Singapore 118177
Mon to Thur: 8.30 am to 6 pm
Fri: 8.30 am to 5.30 pm
Sat: 8.30am to 12.30pm