Strategy & Management Consulting Firms
Strategy & Management Consulting Services
What is the difference between management consulting and strategy consulting?
Management consultants are hired to identify problems an organization is facing as a whole.  The issues that a company is facing could come from any functions, such as finance, HR, sales, IT, operations and others.  Management consults would then offer insights and solutions to address them.
A strategy consultant is typical engage to provide strategic advice on a specific areas such as an organisation longer term marketing strategy.
What makes a good management and strategy consultant?
Firstly consultants should have deep expertise and experiences in the specific industries or functional areas. Also, they should have qualities like being 'creative', 'analytical', 'self-motivated', 'ability to handle pressure' and others.
1. Gao Feng Advisory Company Limited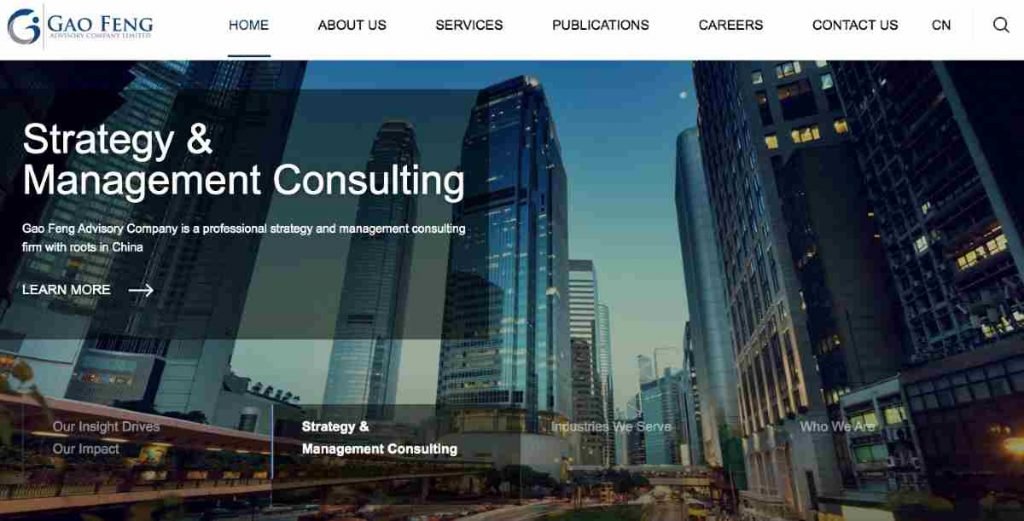 Gao Feng Advisory Company is a professional strategy and management consulting firm with roots in China coupled with global vision, capabilities, and a broad resources network. With deep China expertise, the company help clients address and solve their toughest business and management issues that arise in the current fast-changing, complicated and ambiguous operating environment.
THEIR SPECIALTY & SERVICES:
Key services includes:
Understanding the China Context.
For MNCs – defining China's Role in Their Global Strategies and Devising Appropriate Approaches.
For Chinese Companies, – Fulfilling the Next Era of Needs and Aspirations.
For the Public Sector -Seeking New Definition of the Government's Role.
Senior Leadership Team With Extensive Experience in Strategy Consulting and Senior Executive Management experiences.
Consulted to hundreds of companies, investors, start-ups and public-sector organisations on all critical aspects of doing business in and with China.
Suite 1307, Guangming Building, 42 Liangmaqiao Road, Chaoyang District, Beijing 100125, P.R. China
Monday to Friday: 9 am to 5 pm
Closed on Saturday & Sunday
We are featuring top strategy and management consulting firms here which could help you and organisations establish new strategies.
If you like your organisation to be considered to be featured here, please send us an email at info@topbestinsingapore.com