Strategy & Management Consulting Firms
Strategy & Management Consulting Services
1. Gao Feng Advisory Company Limited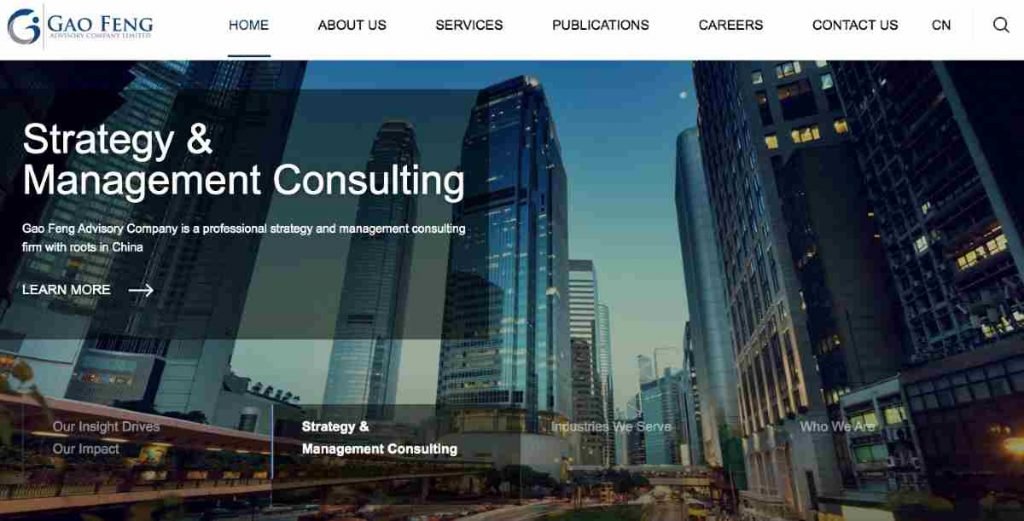 Gao Feng Advisory Company is a professional strategy and management consulting firm with roots in China coupled with global vision, capabilities, and a broad resources network. We help our clients address and solve their toughest business and management issues — issues that arise in the current fast-changing, complicated and ambiguous operating environment
THEIR SPECIALTY & SERVICES:
Understanding the China Context.
For MNCs Defining China's Role in Their Global Strategies and Devising Appropriate Approaches.
For Chinese Companies, Fulfilling the Next Era of Needs and Aspirations.
For the Public Sector, Seeking New Definition of the Government's Role.
Senior Leadership Team With Extensive Experience in Strategy Consulting and Senior Executive Management.
http://www.gaofengadv.com/
Suite 1307, Guangming Building, 42 Liangmaqiao Road, Chaoyang District, Beijing 100125, P.R. China
Monday to Friday: 9 am to 5 pm
Closed on Saturday & Sunday
McKinsey Singapore office is founded in 1998.  The company work with Singapore's leading institutions and enterprises across every major sector to create transformative growth and achieve breakthrough performance. 
THEIR SPECIALTY & SERVICES:
Practices include:
McKinsey Digital
Financial Services
McKinsey Analytics
Others
Bringing the best of our global firm. We combine McKinsey's global expertise with deep local insights to help our clients create Change that Matters.
https://www.mckinsey.com/sg
One Raffles Quay
Level 24, South Tower
Singapore 048583
Singapore
Monday to Friday: 9 am to 5 pm
Closed on Saturday & Sunday
Bain & Company is a global consultancy that helps the world's most ambitious change makers define the future.  The company work alongside their clients as one team with a shared ambition to achieve extraordinary results, outperform the competition and redefine industries. 
THEIR SPECIALTY & SERVICES:
Consulting services focus on clients' most critical issues and opportunities on areas such as strategy, marketing, organization, operations, technology, transformation, digital, advanced analytics, and others.
The company bring deep, functional expertise, but are known for their holistic perspective:  Capturing value across boundaries and between the silos of any organization.
https://www.bain.com/offices/singapore/
38 Beach Road
Level 15
South Beach Tower
Singapore, 189767
Singapore
Monday to Friday: 9am to 5pm
Saturday & Sunday: Closed
We featured 3 of the top strategy and management consulting firms here.