Best Neurologist in Singapore
1. National Neuroscience Institute (NNI)
National Neuroscience Institute (NNI) specialise in treating various conditions affecting the brain, spine, nerves and muscles.   As a centre of excellence in Singapore, the NNI provides services in fields of neurology, neurosurgery, neuroradiology and neurodiagnostics.
THEIR SPECIALTY & SERVICES:
Neurology
Neurosurgery
Neuoradiology
Others
Singapore national specialist centre in neuroscience
Neuroscience clinics in 2 locations – Tan Tock Seng TSH Campus and Singapore General Hospital SGH Campus
Neuroscience Clinic, Level 1National Neuroscience Institute
11 Jalan Tan Tock Seng
Singapore 308433
Mon – Fri:  8.00am to 5.00pm
Sat & Sun: Closed
2. Raffles Neuroscience Centre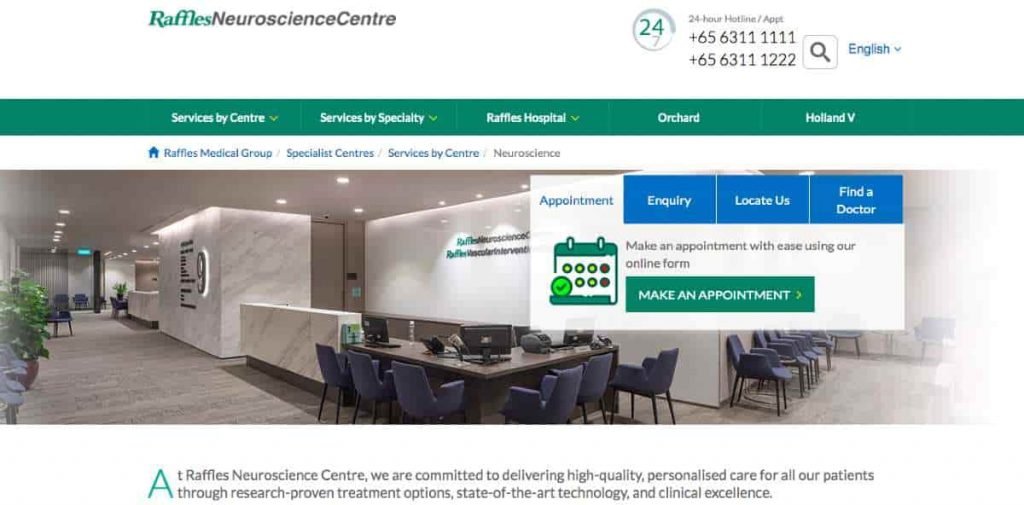 Raffles Neuroscience Centre has a team of experience neurologist, neurosurgeons, interventional radiologists and other specialists who works together to provide neurosurgery and neuro-interventional treatments.
THEIR SPECIALTY & SERVICES:
Neurology
Neurosurgery
Interventional Neuroradiology
Level ​9, 
Raffles Specialist Centre
585 North Bridge Road
Singapore 188770
specialist@raffleshospital.com
Mon-Fri: 8.30am to 6pm
Sat: 8.30am to 1pm
3. Mount Elizabeth Hospital (Neurology)
Mount Elizabeth Hospital Neurology has a team of neurologists who work on patients on neurosurgery and general neurology.  Other relevant neuro-rehabilitation services provided includes occupational therapy, physiotherapy, and speech therapy.
THEIR SPECIALTY & SERVICES:
 Advanced surgical procedures available including Awake Craniotomy and others.
Mount Elizabeth Hospital
3 Mount Elizabeth
Singapore 228510
We will be featuring more Top Neurologists here soon.
If you like your organisation to be considered to be featured here, please send us an email at info@topbestinsingapore.com