Best Event Services In Singapore
What services do event planners provide?
Event companies typically are able to provide the following services related to an event:
Conducting research- to find out more on the event theme and how to maximise the success for the event.
Creating an event design – to bring creativity in event planning and event execution.
Finding a site – to best carry out the event and at the same time in optimising costs and benefits for this.
Arranging for food, decor and entertainment – to delight the guests and attendees.
Planning transportation to and from the event – when necessary.
Sending invitations to attendees – to maximise turnout.
Arranging any necessary accommodations for attendees – when necessary for especially VIP guests.
Coordinating the activities of event personnel – to provide assistance to guests.
Supervising at the site
Conducting evaluations of the event – to get feedback for future events.
What are the categories of event? 
Some of the most common ones are:
Seminars
Conferences.
Trade Shows.
Workshops.
Parties.
Galas.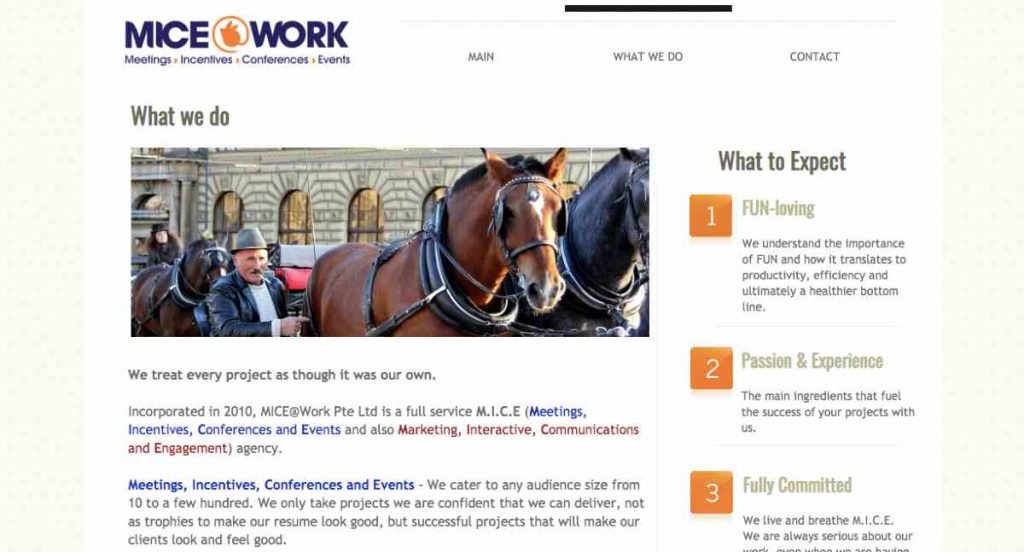 Incorporated in 2010, MICE@Work Pte Ltd is a full service M.I.C.E (Meetings, Incentives, Conferences and Events and also Marketing, Interactive, Communications and Engagement) agency.
Meetings, Incentives, Conferences and Events – We cater to any audience size from 10 to a few hundred. 
THEIR SPECIALTY & SERVICES:
We pride ourselves in providing integrated solutions/services in the following areas:
Conferences and Travel Incentives
Channel Reward/Incentive Programs
Marketing Communications
Program Communications 
We only take projects we are confident that we can deliver, not as trophies to make our resume look good, but successful projects that will make our clients look and feel good.
Monday to Friday: 9 am to 6 pm


Singapore's most caring Corporate Gifts specialists. When the savvy marketing department needs a corporate gift, premium, personalised memento or souvenir with a difference it is the experience of Eventus Gifts that is turned to.
THEIR SPECIALTY & SERVICES:
Corporate and Events Gifts
Custom Apparels, printed shirts, polos,
Custom caps or towels
IT gadgets
Door Gifts
As a corporate gifts supplier we take a great deal of pride in working with you to create very special door gifts ideas that are not only memorable – but will also make a lasting impact on the recipients, personalised gifts that send a message of caring.
Monday to Friday: 9 am to 6 pm


Event services can assist businesses to organise your next event for your customers. The right and effective event management and services agency is definitely a strategic partner for a great event.
We will be featuring more top Event Services firms here soon. If you like your organisation to be considered to be featured here, please send us an email at info@topbestinsingapore.com