Best Corporate Secretarial Services In Singapore
Company Secretarial Services
Setting up a company in Singapore?  Corporate secretarial services are often needed when you want to set up a new company in Singapore. 
Corporate secretarial services covers areas such as incorporation, AGM, compliance, Nominee Director services, filing, financial matters that need to comply to the guidelines from Accounting and Corporate Regulatory Authority (ACRA) and Inland Revenue Authority of Singapore (IRAS).
These are some of the corporate secretarial firms you want to work with to get a head start with your business.
Lanturn Pte Ltd understand the challenges of running businesses.  Comprising of a team of experienced accountants, advisers and compliance professionals, they seek to provide corporate secretarial and other related services to their clients.  They access and uses up-to-date platform technology in their corporate secretary work with their customers and to stay ahead of their competition.
THEIR SPECIALTY & SERVICES:
Named Corporate Secretary
Annual General Meetings (AGM)
Annual Returns
Resolutions
Advisory calls
Registered address
Nominee Director services
Registers preparation and maintenance
Uses leading cloud corporate secretary services to streamline workflows.
Corporate secretaries are certified by CSIS
Flexible packages for companies at different stages including startups and SMEs. 
Proven with more than 250 clients
They are responsive, knowledgeable, friendly
Provide good client service at a very competitive price.
160 Robinson Road,
#10-05, SBF Center,
Singapore 068914
Monday to Friday: 9 am to 6 pm
Closed on Saturday & Sunday
Thanks for such a quick and efficient process to have my company setup in Singapore... Great team, transparent pricing and packages ...
Very efficient, registered my company with minimum fuss
2. ContactOne Professional Services
ContactOne Professional Services is a top-notch Singapore based firm that provides corporate secretarial, company incorporation, business formation, compliance and other related corporate administrative services for startups and small to medium enterprises (SMEs).  The office is situated in North Bridge Centre, within the central business district (CBD) of Singapore.
THEIR SPECIALTY & SERVICES:
Singapore Company Registration
Company Secretary
Registered Address
Accounting and Tax
GST Registration
Company De-registration 
Partnerships setups
Advisory Services
ContactOne is a sought after by entrepreneurs and business owners
Has international clients from countries around the world like USA, China, South Africa, Middle East, United Kingdom, France, Italy, Malaysia, Thailand, Korea and Japan.
Personalisation of their service in serving their clients.
Transparent with no hidden fees for services
Competitive rates with their service offerings
1 Coleman Street,
#10-06 The Adelphi
Singapore 179803
enquiries@contactone.com.sg
Monday to Friday: 10 am to 7 pm
Closed on Saturday & Sunday
"KINGS Group of companies have been engaging ContactOne services for many years already. We are proud to recommend their services to those who need dedication and good service."
3. VoPlus Consulting Pte Ltd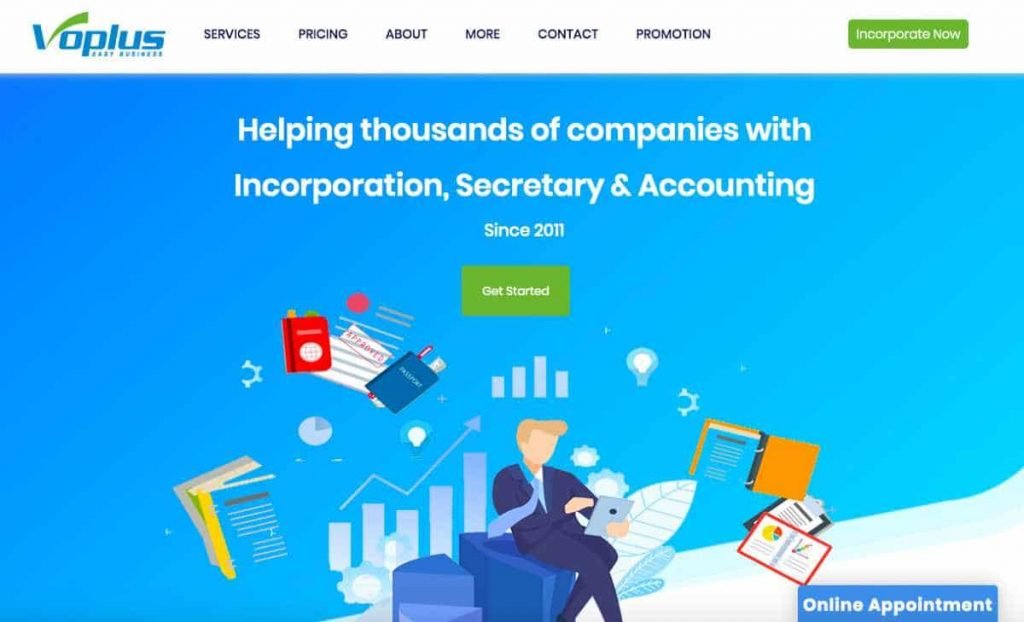 VOPlus founded in 2011 has assisted more than 2,000 local and foreign SMEs in providing trusted end-to-end corporate services in Singapore. The company is Singapore's first corporate services provider to be ISO 9001 certified.
THEIR SPECIALTY & SERVICES:
Incorporation of company
Corporate Secretary
 Nominee Director
Taxation
Pass and Immigration services
Consultancy & advisory services
Trusted by more than thousands of clients
Service guarantee with great value
Well qualified professionals experienced in corporate services
Competitive pricing with full transparency
1 Raffles Place, #44-01A ,
One Raffles Place Tower 1 ,
Singapore 048616
Monday to Friday: 9 am to 6 pm
Closed on Saturday & Sunday
"I am very satisfied with the consultant's service. They have helped me providing me of clear and accurate information from basics on how to set up my business in Singapore. "
"I have used many corporate secretary services and I must say VoPlus Consulting offers the best service one can ever ask for. The consultants are all very knowledgeable helpful."
Overall, each of these corporate secretarial firms included on this list are capable of providing you with the best corporate secretary service you need. Each of these companies has it's own unique strength and and expertise in different ways as such do review the list and engage the one that you think best meet your needs.