China Business Consulting Firms
China Business Consulting Services
Is China a good place to do business?
China is the world's second largest economy and is a key trading partner with many countries. With its 1.4 billion population becoming increasingly urbanised and wealthy, it has created an enviable large customer base for businesses. As such, over the recent years, many companies have invested resources and capital to establish their operations in China.  These include information technology, healthcare, and luxury good companies.  The market size and economic developments has indeed make China is a great choice for anyone looking to expand their business overseas.
What do China Business consulting services firms provides?
Services provided to assist companies to expand to China includes:
Consulting on opening a company in China
China Business Strategy consulting
Market entry advisory
Market research on opportunities of target market
Office Location and setup
Employment, Executive Search and HR solutions.
Other related services.
1. Gao Feng Advisory Company Limited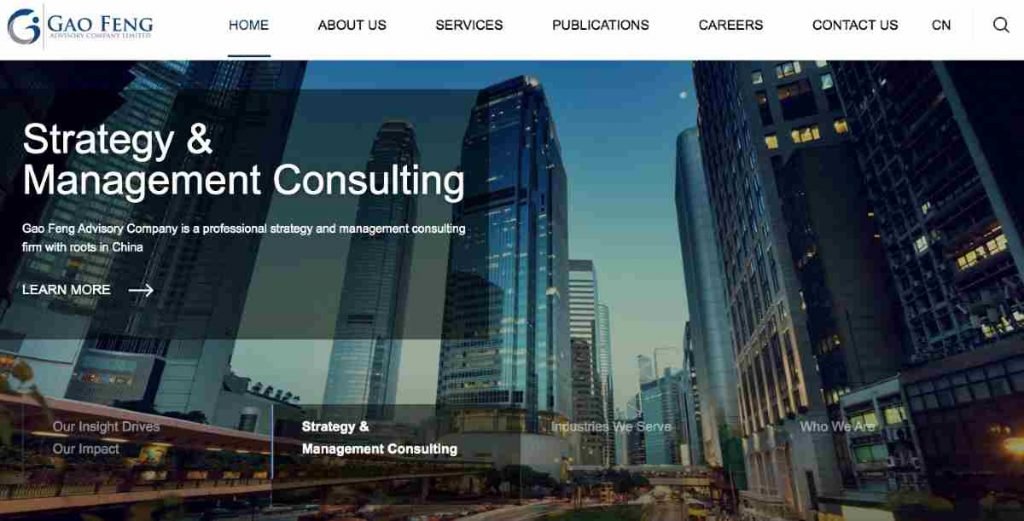 Gao Feng Advisory Company is a professional strategy and management consulting firm with roots in China coupled with global vision, capabilities, and a broad resources network. With deep China expertise, the company help clients address and solve their toughest business and management issues that arise in the current fast-changing, complicated and ambiguous operating environment.
THEIR SPECIALTY & SERVICES:
Key services includes:
Understanding the China Context.
For MNCs – defining China's Role in Their Global Strategies and Devising Appropriate Approaches.
For Chinese Companies, – Fulfilling the Next Era of Needs and Aspirations.
For the Public Sector -Seeking New Definition of the Government's Role.
Senior Leadership Team With Extensive Experience in Strategy Consulting and Senior Executive Management experiences.
Consulted to hundreds of companies, investors, start-ups and public-sector organisations on all critical aspects of doing business in and with China.
Suite 1307, Guangming Building, 42 Liangmaqiao Road, Chaoyang District, Beijing 100125, P.R. China
Monday to Friday: 9 am to 5 pm
Closed on Saturday & Sunday
We have featured one of the top China Business consulting firms here which could help you on your China strategy.
If you like your organisation to be considered to be featured here, please send us an email at info@topbestinsingapore.com