Artificial Intelligence Services
Artificial Intelligence (AI) is  the study and application of intelligent machines to mimic human action and thought. With the availability of Big Data and invention of new algorithms, AI has risen as a disruptive technology as part of our digital strategy.  
WHAT IS ARTIFICIAL INTELLIGENCE WITH EXAMPLES
AI application include assisting in problem-solving, learning, speech recognition and others.  An well-integrated example of artificial intelligence is the AI chatbot.
WHAT IS AI BASED CHATBOT?
A chatbot is a computer program that simulates human conversation through text chats and voice commands. AI Chatbot uses Artificial Intelligence (AI) interpret and process user's words or phrases and give an instant pre-set answer. As such, these chatbots are also commonly known as conversational ai chatbot.
CONVERSATIONAL AI CHATBOT
AI Chabots examples can be in marketing, sales and customer services environments. For example:
Conversational Service Suite – Create a support environment that allows for automated conversations, human and A.I collaboration, as well as a 360 view of the customer that enables you to build better relationships with your customers.
Conversational Marketing Suite – Provide 1:1 personal conversations with our easy-to-use design, personalisation and automation tools. From smart segments to personalized customer journeys, our solution has all the features you need to boost marketing key performance indicators (KPIs).
Conversational Commercial  Suite – Deliver a personalised shopping experience with an automated virtual sales assistant, understand your customer's preferences and maximise revenue with journey-aware product recommendations across multiple chat channels.
AiChat was officially founded in July 2016. Since then, the platform has evolved from a simple chatbot platform to a sophisticated AI-powered conversational experience solution. Beyond supporting automated responses to FAQs, it was built to value add real business goals and project a brand experience that won new customers and retained existing ones.
THEIR SPECIALTY & SERVICES:
The company diverse team work closely with our clients to provide end-to-end solution, from consultation to the design and development of the chatbot using AiChat proprietary technology and platform, empowering them to keep up with their customers expectation and staying ahead of competition.
The company has a diverse team of experienced A.I technologists, conversational designers, chatbot developers and digital marketers from WPP, Microsoft, IBM and Accenture backed by strategic private investors who are formerly from Adobe, Salesforce and ServiceNow.
Monday to Friday: 9 am to 5 pm
Closed on Saturday & Sunday
With Messenger, we gave our guests the information they needed quickly and helped them discover more about the many attractions Marina Bay Sands offers. By using the bot for Messenger, we impacted business internally and made our communication on the channel more efficient."
"Our chatbot has taken a huge load off our sales team by automating the appointment booking, routing them to the relevant consultants and even servicing our customers at roadshows when our promoters are too busy. Within the first few weeks of going live, we have already seen gain in interests of the car models. Thanks AiChat and team, for the great product and a highly knowledgeable and efficient team to work with!"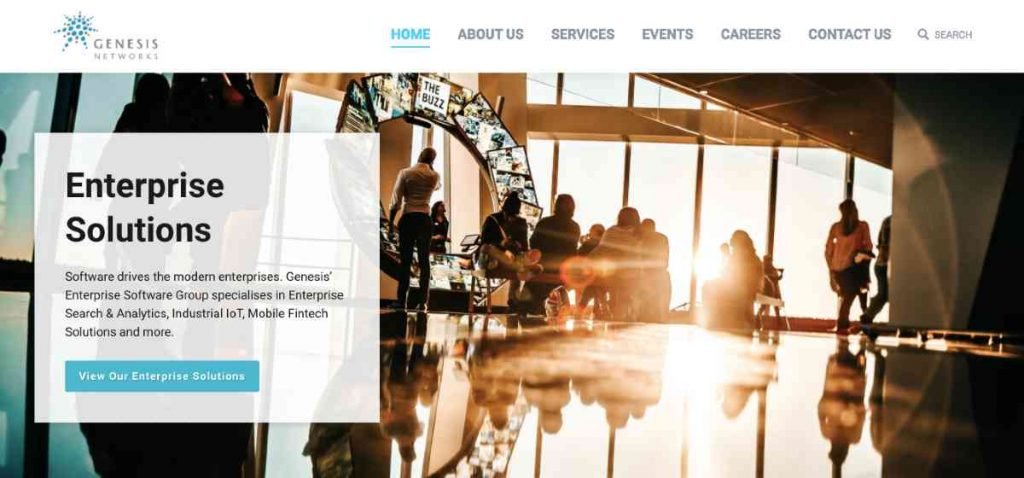 Genesis Networks is a Singapore based IT Services Company established in 2001. With continued support from valued clients, we gained recognition through successful delivery of turnkey projects using in-house application development capabilities, network integration expertise and a privately owned data centre facility, as a trusted, one-stop technology solutions provider.
THEIR SPECIALTY & SERVICES:
AI
Enterprise Software Solutions
Data Centre
Managed Services
Infrastructure Services
We commission projects involving AI, Big Data, Enterprise Search, Industrial IoT, Blockchain, Fintech, and various Cloud Services; incorporating such change elements to help customers in their digital transformation journey.
Monday to Friday: 9 am to 5 pm
Closed on Saturday & Sunday
We will be featuring more of the best AI services firms here soon.
If you like your organisation to be considered to be featured here, please send us an email at info@topbestinsingapore.com